eRacr Newsletter – 📆  9/22
Posted by The Money Lap
September 22, 2022 in

Keep up to date with all the latest news from eRacr! Catch up on Bristol and a preview of Texas! 🤠


Weekly News Update:
– The BEAN MACHINE was back at Bristol! 
– Landon is pulling double duty again at Texas
– You can still get PK merch here
– The NASCAR Playoffs Round of 12 start this weekend
– eBristol was not kind to us! 🙁
 
Coming Up: 
– Saturday 9/24 3:30pm ET
  Landon Cassill – NASCAR Xfinity Series – Texas Motor Speedway
  Watch on: USA
– Sunday 9/25 3:30pm ET
  Landon Cassill – NASCAR Cup Series – Texas Motor Speedway
  Watch on: USA
– Tuesday 9/27 9:00pm ET
  eNASCAR Coca-Cola iRacing Series – Round #16 – Talladega Super Speedway
  Watch on: twitch.tv/iracing or enascar.com/live
Bristol Recap
Parker Kligerman – NASCAR Camping World Truck Series
Qualified: 28th
Finished: 3rd
Landon Cassill – NASCAR Xfinity Series
Qualified: 16th
Finished: 35th
Landon Cassill – NASCAR Cup Series
Qualified: 35th
Finished: 22nd
 
eBristol Recap
#42 Darik Bourdeau
Qualified: 19th
Finished: 29th
#69 Collin Bowden
Qualified: 34th
Finished: 35th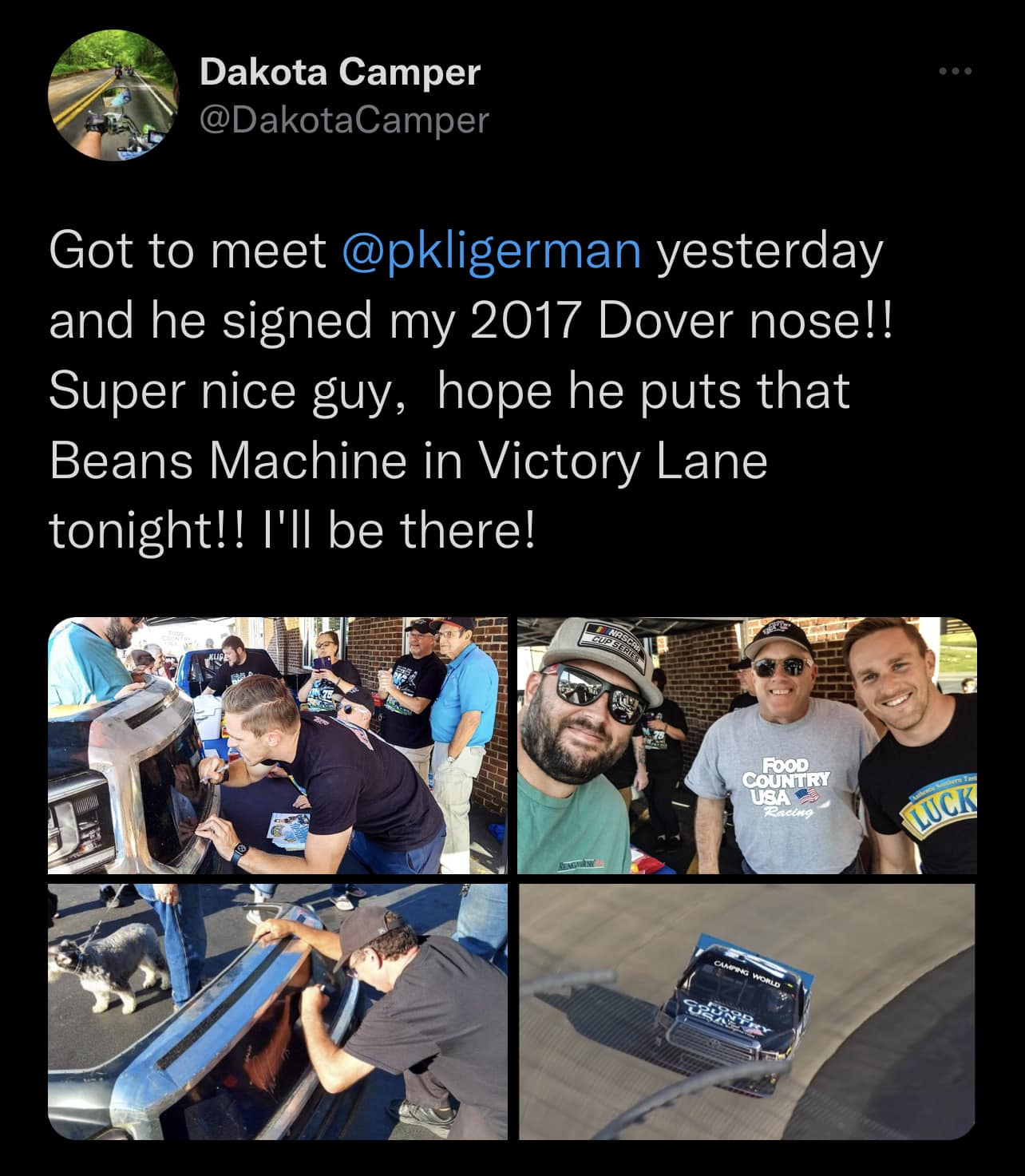 Parker got to meet some fans this week ahead of last week's race at Bristol Motor Speedway! Shoutout to Dakota who had one of the coolest item's to sign! 
McLaren Racing Interested in Kyle Busch for Indianapolis 500 Ride
Zak Brown, chief executive officer of McLaren Racing, indicated the three-car IndyCar team is eyeing a fourth entry for the 500-miler that could put Busch behind the wheel of its Chevrolet-powered vehicles. 

Read more here
Logitech G PRO Wheel & Pedals review: Direct Drive FINALLY arrives
It's been a long time coming, but it's finally happened. Following the Logi PLAY event, Logitech has revealed the G PRO Wheel and G PRO Pedals for sim racing, its first foray into a direct drive ecosystem. Read more here
Join our Fantasy Leagues!
eRacr F1 Fantasy League
Join today for Free, choose your 5 drivers and constructor, and be a part of the free F1 Fantasy!
If you already have a registered account, use this code to join the league: fbeb1ea67a 
Join 54 others playing eRacr F1 Fantasy now:
eRacr NASCAR Fantasy League
The 2022 NASCAR season is well underway but there's still time to join one of NASCAR's biggest independent fantasy leagues! 
Join 95 others playing eRacr NASCAR Fantasy now: 
In the Wall with Parker Kligerman
In the Wall with Parker Kligerman is officially BACK! PK brings you news from all forms of motorsports from all around the world! Join the conversation using #InTheWall on your social media platform of choice and catch up on the
latest episode here!