eRacr Newsletter – 📆  8/4
Posted by eRacr Newsletter
August 4, 2022 in

Keep up to date with all the latest news from eRacr! Get up to speed on Indy Road Course, bus races and more!


Weekly News Update:
– Parker lost brakes at Indy 🙁
– Landon finished P11!
– Landon raced a bus and WON!?
– eNASCAR took on the Chicago Street Course
– The Gang becomes lawyers on the latest episode of The Unnamed eRacr Podcast
Coming Up: 
– Saturday 8/6 3:30pm ET
  Landon Cassill – NASCAR Xfinity Series – Michigan International Speedway
  Watch on: USA
 
Indy Road Course Recap
NASCAR Xfinity Series – Landon Cassill
Qualified: 11th
Finished: 11th
NASCAR Xfinity Series – Parker Kligerman
Qualified: 35th
Finished: 37th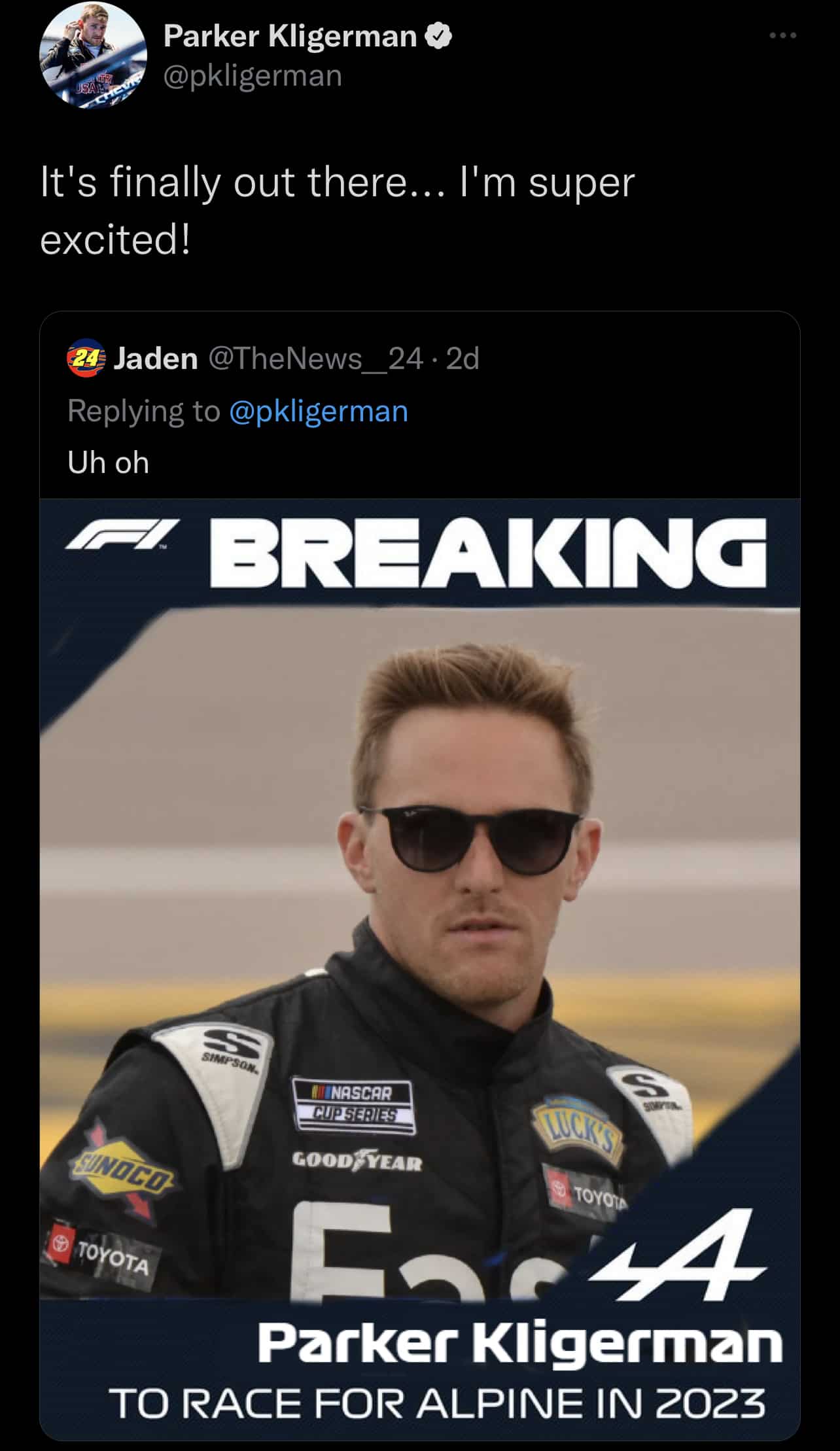 In all the chaos of silly season, the big news finally leaked! PK is heading to Alpine in 2023! Of course, there will probably be several other announcements, statements and litigation that could very well change this… 
Sir Lewis Hamilton brings the Broncos worldwide
From signing Nathaniel Hackett to be the head coach, to landing Russell Wilson in a trade with the Seahawks, to the change in ownership, Broncos Country has seen some of the biggest changes in franchise history in just a few short months. Read more here
WRC eyeing 2023 Middle East round, USA expansion plans continue
The 11-year-old from Galloway, New Jersey swept the Carolina Crate Modified Series features on Tuesday and Wednesday night at the Racetrack Revival, becoming the youngest winner in the history of the storied short track. Read more here
Join our Fantasy Leagues!
eRacr F1 Fantasy League
Join today for Free, choose your 5 drivers and constructor, and be a part of the free F1 Fantasy!
If you already have a registered account, use this code to join the league: fbeb1ea67a 
Join 54 others playing eRacr F1 Fantasy now:
eRacr NASCAR Fantasy League
The 2022 NASCAR season is well underway but there's still time to join one of NASCAR's biggest independent fantasy leagues! 
Join 95 others playing eRacr NASCAR Fantasy now: 
In the Wall with Parker Kligerman
In the Wall with Parker Kligerman is officially BACK! PK brings you news from all forms of motorsports from all around the world! Join the conversation using #InTheWall on your social media platform of choice and catch up on the
latest episode here!