🏎 Motorsport Heaven
Posted by The Money Lap
December 22, 2022 in
"The best 5 minutes in motorsports"
Good morning! Welcome to eRacr's weekly newsletter! Each week (or twice a week during busy times), we'll be delivering the best 5 minutes of motorsports content straight to your inbox. This includes the latest news and updates, must-see memes, recommended podcast episodes, and more.
In just 5 minutes, you'll get all the best motorsports content from around the world. And if you have friends who would also enjoy this newsletter, don't forget to share it with them! We even have a referral program to thank you for spreading the word! 
---
FORMULA ONE 
Charles Leclerc makes a prediction
It's been a rough year for Mercedes in F1, with their streak of eight consecutive constructors' championships coming to a screeching halt thanks to some struggles with new technical regulations. From porpoising during testing to deeper issues with their W13 car, things were looking bleak early on. But never fear, the team was able to bounce back and even snag a win in Brazil.
Ferrari driver Leclerc is confident that Mercedes will be back in the running next year, potentially setting up a three-way battle with Red Bull. Despite a winless streak from July until the end of the season, Ferrari managed to hold onto second place in the standings. Leclerc is confident that Ferrari will be able to bounce back and come out on top in 2023
"I do believe that Mercedes will be in the fight," said Leclerc, who scored three wins this year for Ferrari. "Another team? I haven't seen signs yet maybe to believe that another team will join the top three.

F1 x Bathurst!
To be honest, we've all done it on iRacing but now its happening in real life. Red Bull Racing will showcase their F1 car at the Bathurst 12 Hour season opener with a demonstration lap at the iconic Bathurst circuit. The driver for the demo lap will be announced in the new year, however it is expected to be third driver Daniel Ricciardo, who has expressed his admiration for the circuit in the past.The 2023 Bathurst 12 Hour will take place from February 3-5.
Jenson Button holds the unofficial lap record at the circuit – a 1m48.8s set in a McLaren MP4-23 in 2011.
More F1
---
NASCAR
New NASCAR "team" says they need sponsorship to be a …Team.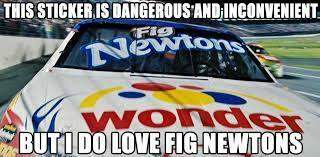 Another team coming in to shake up the NASCAR world, huh? We've heard this one before. 3F Racing, founded by German racing enthusiast Dennis Hirtz, plans to make its debut in the top class of NASCAR in spring 2023, skipping the Xfinity Truck series and going straight for the big leagues. Hirtz has already secured his NASCAR license as an owner and the No. 30 entry, and even managed to get some support from Chevrolet.
But let's be real, it's one thing to have a license and a number, and another thing entirely to actually be competitive on the track and to have, you know, the money.
"3F Racing is dependent on sponsorship money, which is why we work hard to find good, reliable and loyal partners to whom we can add value, of course,"  
How are we going to be watching NASCAR in 2025? 
John Ourand from Sports Business Journal has made a prediction on the next NASCAR TV contract 
.@Ourand_SBJ's prediction for @NASCAR's next TV deal:

🗞: sportsbusinessjournal.com/Journal/Issues…

— Adam Stern (@A_S12)
Dec 17, 2022
More NASCAR
---
INDYCAR
Indycar and iRacing breakup? 😢 
Everyone is upset and angry because iRacing has lost their Indycar license as of January 1st, 2023. iRacers will still be able to drive Indycars, but there will no longer be an official series or special events like the iRacing Indy 500. Additionally, no one will be allowed to broadcast the Indycars being raced. This is another rights dispute in motorsport gaming. Hopefully, a resolution can be found because fewer people virtually racing Indycars is not a win for anyone.
Indycar responded to iRacing's announcement
The sim racing community has responded like it's 1996 all over again (kids look up the CART & IRL split) 
RaceSpot's first ever broadcast was an IndyCar race – we live and breathe the series.

Join us on New Year's Eve for a blockbuster 500km's at @MISpeedway as @iRacing IndyCar's finest ball out for one final time.

One final goodbye.

#iRacing | #eSports | #IndyCar

— RaceSpot TV (@RaceSpotTV)
Dec 22, 2022
---
GLOBAL MOTORSPORT
Take a trip to far away motorsport lands
---
MEMES
— F1 MEMES (@f1trolls_)
Dec 16, 2022
"this race is so boring, i wish we could get a caution to spice things up a bit"

backmarkers:

— NASCAR Memes (@NASCAR_Memes_)
Dec 20, 2022
---
PODCASTS
Latest Motorsport Podcasts
---
ONBOARD OF THE DAY
1999. Juan Pablo Montoya. 1000HP Champcar. Detroit.
As he goes for his record-breaking fifth pole position of the season, JPM unleashes a blistering qualifying lap for the history books.
---
Parker's POV 
Motorsports in America 🚀 
In 2023, eRacr is focused on becoming the best version of ourselves. Our main priority will be building and growing our motorsports community through these emails and offering a variety of options like fantasy leagues, eNASCAR, and the return of the Firecracker 400. We want to become your go-to source for all things motorsports, with memes, facts, and knowledge that you'll want to share with your friends.
We believe that 2023 is the perfect time for this, as the global motorsports scene has never been more connected and there is a high level of enthusiasm for the sport in the US. Formula 1 is expanding, NASCAR is experiencing record parity, Indycar has its most competitive field in decades, and grassroots motorsports are finding their footing again. We want to help you navigate all of this and bring you the most accurate and reliable information, no BS. Thank you for your support and we can't wait to share more with you in the coming year.
Happy Holidays! 
Best, 
Parker Kligerman
---
TELL ALL YOUR FRIENDS
Please send this to friends who want 5 minutes of everything motorsports delivered directly to their inbox multiple times a week!